By: Ekua Stephens - Kyzzfmonline
September 7, 2023
On September 7, 2023, the Western Presbytery Department of Education, under the leadership of Rev. Stephen Martinson, organized a forum at the Trinity Presby Church in Takoradi.
The purpose of this forum was to discuss the topic "Promoting Academic Excellence and Moral Uprightness in Presbyterian Schools."
A limited number of attendees were already seated by 10:40 a.m.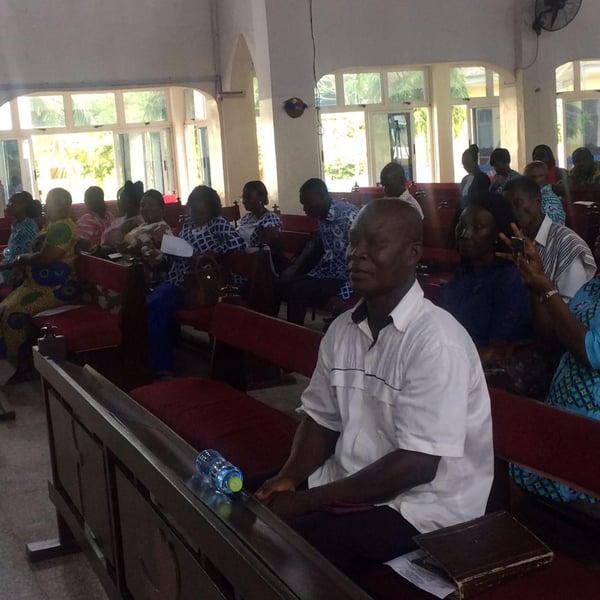 The event began with an opening remarks session delivered by a representative of the chairman, who was unable to attend.
Following this, the Trinity School choir entertained the audience with melodies from Ghanaian songs. They were impeccably dressed in their neatly ironed school uniforms and kindly distributed bottled water to the few attendees present.
At 10:59 AM, the choir concluded their performance, and the Master of Ceremonies (M.C) took the stage to introduce the distinguished guests in attendance. Among them were the Regional Managers of the Presby School for the Central and Western Regions
During his address, the Western Region Manager commended Mrs. Sally Nelly Coleman for her exceptional work at the directorate on behalf of the Ghana Education Service. He also highlighted that the Presbytery had organized a mock examination for all Presbyterian schools without charging any fees.
In the middle of his speech, he recognized the achievements of the Anyinase School and several other schools in Takoradi for the outstanding performance of their students during the Basic Education Certificate Examination (BECE).
Mrs. Nelly Coleman, the Metropolitan Director of the Ghana Education Service (GES), then delivered the keynote address. She emphasized the historical significance of mission schools in Ghana, where they played a pivotal role in instilling morals and reverence for God in students. Mrs. Coleman questioned whether our 21st-century students are living up to societal expectations.
She asserted that schools are crucial partners in molding the moral character of children and asked how well we have managed and maintained these institutions.
Mrs. Coleman encouraged educators to instill moral values like chastity and the importance of faith in Ghanaian students.
She concluded her speech with a quote from Jose Eduardo dos Santos: "There is no magic wand that can resolve our problems. The solution rests with work and discipline."
Mrs. Coleman received an award at the event and departed around 11:51 a.m. The forum then transitioned into an interactive session, while the school choir returned to their school.
Unfortunately, we were unable to record or take notes during this session due to permission constraints.
Among the heads of schools present at the event were representatives from Anaji, Ntankoful, Sekondi, Cape Coast, Anyinase, Takoradi, and others.