Before independence, Ghanaians were boxed in small areas while the colonial masters lived in large houses. Ghanaians did not bother themselves with town and country planning.
We wanted to live close to each other.
In such a setting, slums were the natural consequence of population growth.
Public toilets were built to serve the community and some of these structures predate our independence.
Some were also built just before the introduction of Water Closets.
The local government (Sekondi Takoradi Metropolitan Assembly – STMA) inherited such "relics" and had to manage them alongside encouraging and enforcing the provision of toilet facilities in newly built houses.
This is a picture of the old model of collaboration that existed between STMA and landlords.
The old model did not work well.
Was it a lack of Enforcement?
The STMA decided in 2017, to develop a new model of collaboration with landlords to increase the coverage of household toilet facilities and move away from public toilet usage as stated in their updated bylaws.
STMA data captures households without toilet facilities to be about eighty thousand.
In 2019, STMA piloted a household subsidy program where a hundred households project was constructed for poor and deserving households.
The project cost was Ghc100,000. The unit cost was Ghc1,500.
Funding constraints forced STMA to consider other options.
The major challenge was to develop a new model that would enhance collaborations with civil societies and financial institutions.
Out of this arose an Open Governance Partnership between STMA and City Wise Settlement Upgrading Fund (CWSUF), a non-governmental organization.
In an interview with Abdul Aziz Mahmoud, the project coordinator of CWSUF, he explained that they exist to alleviate the plight of slum dwellers.
According to him, they were going to assist STMA to enforce the new model of providing toilet facilities to every household in Sekondi Takoradi.
He answered that the old model was strict enforcement of the by-law leading to no opportunity to have a flexible regime where we can have a subsidy arrangement where landlords can partner with the assembly or microfinance institutions to have a flexible way of providing their households toilets.
Again, he stated that "The old model was not working because, in most slum areas, there are a lot of family houses and absentee landlords through inheritance."
He stated that because of the nature of slum communities, there is difficulty in providing toilet facilities," we cannot use water closets in these areas due to space for drainage system".\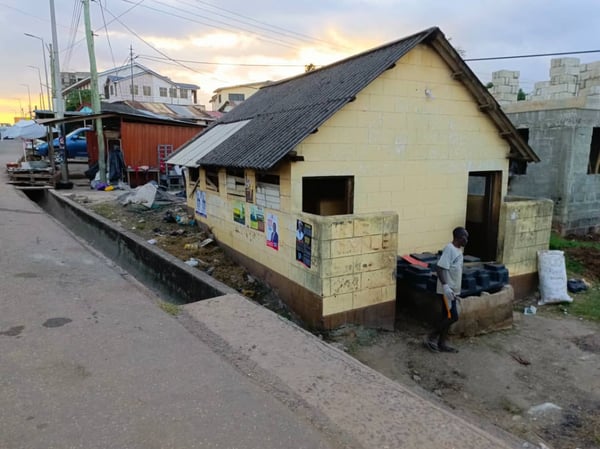 Public Toilet, Effia kuma Zongo
In a further conversation with Kyzzfmonline, he revealed that there are about 14 slum communities in the STMA examples being European Town, Ngyeresia, Essaman, Nkotompo, kojokrom, kweikuma, etc.
" We are relying a lot on the landlord's association because they can be a unit around which STMA can engage the landlords on issues of sanitation, property rate, and even security."
Speaking to Solomon Kusi Ampofo, the project coordinator for Friends of the Nation which is one of the Six Society partners for the open government partnership, he stated that their aim is to help in the co-creation and implementation process.
The partnership has earmarked two million Ghana cedis (Ghc2m) to cover 500 households by the end of the year.
Each biofil toilet is estimated to cost Ghc3,000 when the project takes off.
This technology does not require you to have a large space. it can be done within a tiny enclosure.
Due to the biological placement of the female "jade kingdom," women who visit public toilets contract all manner of diseases because the public toilets are not properly kept or maintained.