By: Ekua Stephens - Kyzzfmonline
July 17, 2023
Speaking on Kyzz Fm morning show today July 17, 2023, it was reported that a 43-year-old man, usually known in his community as Abass was found dead in his room this morning.
According to the reporter, Nana Kwesi Mensah the young man was said to have hanged himself last night between 12 am and 1 am.
His son, who is 15 years old went to his room to take his belt and realized his father had hung himself on a stick on the ceiling with a chair and pushed off the chair afterward.
Looking at the situation, the family has left the body hanging and waiting for the police to arrive on the scene.
According to some people who were with him last night, they were all engaged in a conversation with the deceased before going into their bedrooms to sleep.
There wasn't any conversation of his that alarmed them that he could harm himself.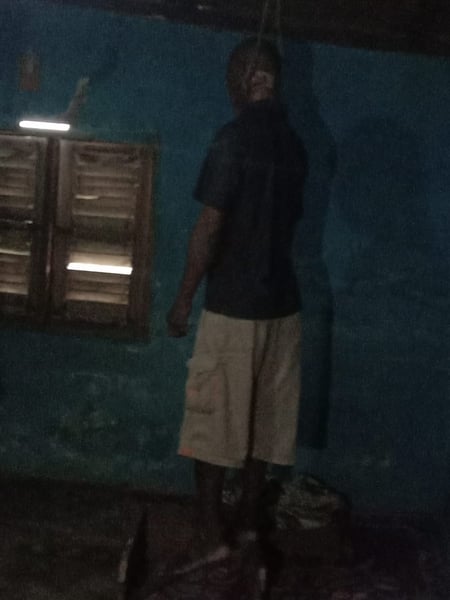 One of the eyewitnesses stated that he suffered from a stroke one and a half years ago and had recovered fully some months ago.
He said he was often seen walking around alone and even going to the seashore, where he previously worked as a fisherman.
According to family members, he has two wives but did not marry any of them, so they do not live with him.
He also has four children, two boys and two girls who sleep in separate rooms in the house.
According to Nana Kwesi Mensah, till now, no policeman has arrived on the scene but the Assemblyman has been there to witness.