In an interview with Godwin Acquaful, the administrative officer for GoldStreet in Sekondi Takoradi, he discussed the various activities and responsibilities of GoldStreet, which include real estate, street parking, and other businesses.
GoldStreet's major role is to ensure efficient parking management in the Takoradi metropolis, aiming to prevent heavy traffic and ensure the smooth flow of vehicles.
Sharckles: Why is GoldStreet handling these tasks instead of the STMA (Sekondi-Takoradi Metropolitan Assembly)?
Godwin: The STMA already has numerous responsibilities, and adding these duties would burden them significantly. Although the STMA is capable of managing parking, it would strain their resources. Thus, the STMA has delegated these tasks to GoldStreet. They do, however, monitor our activities to ensure proper execution.
Sharckles: Is this a public-private partnership?
Godwin: Yes, it is.
Sharckles: What is the percentage distribution?
Godwin: Currently, GoldStreet holds 55% of the revenue, while the assembly retains 45%. This division is due to GoldStreet managing all operational expenses, such as vehicle costs, fuel, maintenance, and salaries.
Sharckles: How often does the assembly receive its share?
Godwin: The assembly's share is submitted monthly. All earnings collected from the first to the end of each month are tallied, and the assembly's portion is then transferred based on these returns.
Sharckles: Could you describe how the payment process works from the assembly?
Godwin: Over the six years I've been with GoldStreet, the assembly's payment arrives at the end of every month.
Sharckles: You charge an hourly fee for parking. How does this work?
Godwin: Our ticketing is structured per hour. Unlike other places where you pay for a full day, we issue tickets for every hour. So, if you park for 30 minutes within an hour, you're still considered within that hour. For instance, if a car parks at 1:00 p.m. and leaves by 1:30 p.m., they will be charged for the full hour.
Sharckles: So, what message do you have for listeners and car owners about being responsible when it comes to paying for parking?
Godwin: I'd like to address the listeners in Takoradi and its surroundings who use cars. While the job we do might not directly yield money, it serves a crucial purpose in making movement within the city easier. The municipal assembly uses funds for various development projects. I want to emphasize that being responsible citizens entails paying the parking fees, as this contributes to the development of the city. When your car is parked, please take the ticket and pay the attendant.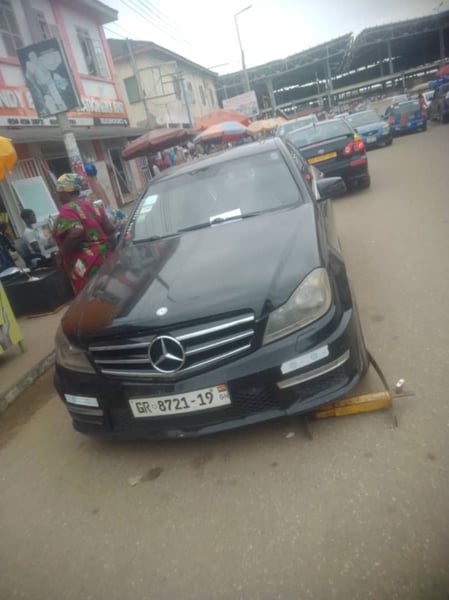 A vehicle clamped in town.
Sharckles: So, if someone owns a car and knows they'll be parking in town, they should keep 1.50 Ghanaian pesewas in their pocket. This way, they're responsible for paying the parking fee before leaving. Is that correct?
Godwin: Yes, exactly. But it's not just limited to 1.50 pesewas. If you'll be in town for a longer period, calculate accordingly. For instance, if you plan to stay for five hours, prepare 7.5 pesewas. The amount you pay depends on the duration of your stay and the associated charges.
Sharckles: Let's say someone parks for a short time, like 5 minutes, and leaves without paying. What happens then?
Godwin: We've implemented a system using duplicate-sided tickets. The ticket issued contains information about the car and the parking time. If a car is parked briefly without paying and then leaves, we keep records of this at the office. If we receive a report that such a car has been parked anywhere in town, we lock it.
Sharckles: So, if a person refuses to pay and leaves with their car, you have their car number filed. When you hear that the car is back in town, you can lock it.
Godwin: Yes, exactly.
Sharckles: Is your system manual or electronic?
Godwin: It's currently manual, but we're working on transitioning to an electronic system. My boss has introduced an app, but it's still in the testing phase. The app can even display the number of cars parked in the slots and track movement.
Sharckles: Could this app link a parked car's number to the driver's identification card?
Godwin: We're still refining the app, as there were some initial issues to address. We're exploring the possibility of linking car numbers to identification cards, but it's under review.
Sharckles: How much does GoldStreet collect in fees on an average day?
Godwin: Our revenue depends on the number of cars parked. On average, we collect about 2,300 Ghanaian cedis per day.
Sharckles: How many employees work at GoldStreet?
Godwin: We currently have around 45 employees, all from Gold Street.
Sharckles: What about reservations? How does that work?
Godwin: Reservations involve companies that need parking slots for their customers. They make arrangements with our office. For example, if they need four slots, they can pay monthly, quarterly, semi-annually, or annually. They receive an invoice, make payment, and then receive their receipt.
Sharckles: Is there a discount for such reservations?
Godwin: The rates for reservations are fixed and don't generally include discounts.
Sharckles: On average, how much do you collect from reservations each month?
Godwin: Reservations' revenue can vary significantly based on monthly, quarterly, or annual payments, so it's hard to provide an average.
Sharckles: What's your annual revenue target?
Godwin: Our annual target is around 180,000 Ghanaian cedis.
Sharckles: With the growing number of cars in town, are your parking slots sufficient?
Godwin: Unfortunately, the planned layout of Takoradi doesn't allow us to expand parking slots. We're doing our best to manage the situation.
Sharckles: Is there a plan to expand parking infrastructure, like high-rise parking structures?
Godwin: While we haven't formally discussed it, I have the idea of suggesting high-rise parking structures to my boss. The new Market Circle building has allocated parking slots, which should alleviate some of the issues.
Sharckles: Could you explain the process of clamping and towing?
Godwin: Clamping and towing involve addressing parking violations. If a car is parked illegally, we issue a complaint summons detailing the offenses and associated fines. If the violation is severe or poses a risk, we might tow the car immediately.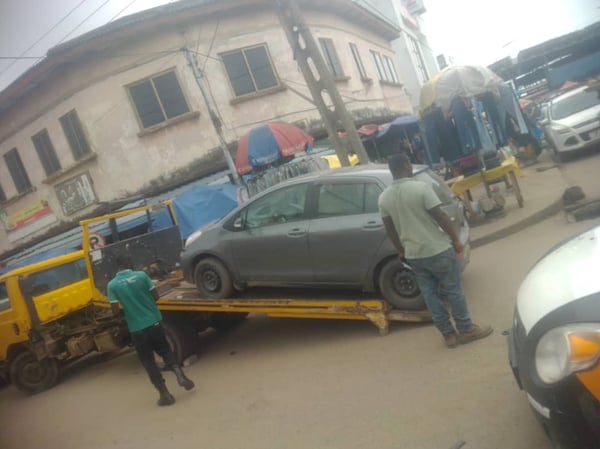 Sharckles: Why do conflicts sometimes arise between your officials and the public?
Godwin: Conflicts often arise due to misunderstandings. Public awareness of road rules and parking regulations is sometimes lacking. People might not realize they're breaking the law, which leads to frustration and arguments when their cars are clamped.
Sharckles: How can these conflicts be reduced?
Godwin: We've been actively educating the public about our operations and regulations through various channels. Awareness is crucial. If your car is clamped, follow the proper procedure rather than removing the clamp yourself. It's important to remember that our officers are enforcing the law.
Sharckles: Do you take legal action against individuals who assault your officials?
Godwin: Yes, we're currently pursuing a case in court against someone who removed a clamp and damaged it. Such actions have legal consequences.
Sharckles: On average, how much do you collect from clamping and towing in a day?
Godwin: Our daily clamping and towing revenue varies based on the number of incidents. However, monthly collections can range from around 12,000 to 16,000 Ghanaian cedis.
Sharckles: Thank you for shedding light on these matters and providing valuable insights.
Godwin: You're welcome. We hope that everyone will understand the importance of abiding by parking regulations for the betterment of our community and city development.