By: Joyceline Stephens - Kyzzfmonline
June 26, 2023
Ntankorful is a suburb in the Sekondi Takoradi Municipality, known for its agricultural activities. Most residents are engaged in farming.
On Thursday, June 22, 2023, an unexpected incident occurred in the Ntankorful community during heavy rainfall. A one-and-a-half-year-old baby fell into a gutter and was later found in another part of the community.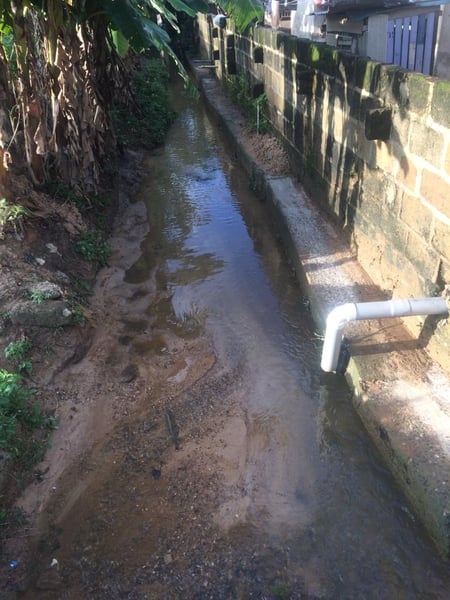 The gutter at Ntankoful
Neighbors near the deceased's house recounted that the mother had returned from church on that rainy Thursday afternoon. She placed the baby beside her while she started cooking. At one point, she noticed the baby was no longer where she had left him and assumed her eldest son had taken him along to the store where she sent him to buy salt.
Upon the eldest son's return, she discovered that he hadn't taken the baby with him. She together with neighbors searched the house and nearby areas but couldn't find the baby. It was later confirmed that two men from the community found the baby in running water at a location called Essaba.
The men noticed the baby's hand protruding from the water and immediately went to his rescue.
When the mother and her eldest son arrived at Essaba, they discovered a crowd surrounding the baby. The baby was still alive and they rushed him to the hospital.
Sadly, upon arrival at the hospital, the baby was pronounced dead, throwing the family into deep sorrow.
The grieving mother was visibly distraught and declined to speak to Kyzzfmonline about her ordeal.
One might question how a mother could unintentionally lose sight of her one-and-a-half-year-old baby during such a heavy downpour.
This perplexes many members of the community.
Kyzzfmonline empathizes with her and extends our heartfelt condolences.
We hope that no more lives will be lost as the rain continues.
The police have visited the house to retrieve the body of the deceased.
Floods in Sekondi Takoradi pose a serious threat during heavy downpours and require immediate attention.