"If you want to be the best, you have to beat the best."
That bristling statement of intent came from both players ahead of Novak Djokovic and Carlos Alcaraz's heavily-anticipated men's singles semi-final in Paris. On a balmy, sun-scorched afternoon it was Djokovic who made his words count, defeating the No.1-ranked Spaniard 6-3, 5-7, 6-1, 6-1 to reach a record 34th major singles title.
With the win the Serbian marches into his seventh Roland-Garros final, and he will bid to become the first man to win a 23rd Grand Slam singles title against either Casper Ruud or Alexander Zverev in Sunday's final. Djokovic would also return to the world No.1 spot if he lifts the Coupe des Mousquetaires in two days' time.
"I'm just incredibly proud to again reach another final," Djokovic said on court after his victory. "I'm very very happy, but it's not finished. We have another match. To play another final here at Roland-Garros is truly a dream and I hope I can play at my best level on Sunday to win the title."
The victory marks Djokovic's fourth consecutive win over a reigning world No.1 and his first against Alcaraz in two tries, but it was not without drama. Seemingly in control of the momentum, Alcaraz suffered from what appeared to be cramping in his legs in at the conclusion of the second game of the third set, and conceded a break of serve while seeking medical attention in his chair. The world No.1 didn't claim another game in the set.
A physical battle
Though he exhibited resilience in the fourth set, Alcaraz never recovered the momentum as Djokovic seized the opportunity to race to victory.
"First and foremost, I have to say tough luck for Carlos," Djokovic said. "Obviously, at this level, the last thing you want is cramps and physical problems, during the late stages of the Grand Slam, so I feel for him, I feel sorry – I hope he can recover and come back very soon.
"I told him at the net, he knows how young he is. He's got plenty of time ahead of him – he's going to win this tournament, I'm sure, many times. He's an unbelievable player and an incredible competitor. "It's tough obviously for him to not know whether he should retire the match or finish the match in the way he did. But congratulations to him for fighting spirit and hanging in all the way to the last point – respect for that, great respect."
In a contest featuring the widest age gap between Grand Slam semi-finalists since 1991, 36-year-old Djokovic had all the answers in the early going, as he methodically probed and prodded the Spaniard, forcing errors and winning cat-and-mouse rallies while saving all four break points he faced in the opening set to take a 6-3 lead.
Alcaraz and his irrepressible energy took the fore in the second set. He brought the crowd to his feet with several shots for the highlight reel and eventually broke through to claim two breaks of serve to level the contest at a set apiece. "I think we were both at our physical limits to be honest, towards the end of the second set, I wasn't feeling fresh at all," said Djokovic, who briefly got his right arm looked at during one of the changeovers. "We went toe to toe, I think it was quite an even match, at one set all and then this thing happened with his cramps in the second game of the third set, and from that moment onward, it was a different match."
Alcaraz concedes a game and momentum flips
The contest was dead even until the conclusion of the second game of the third set, which introduced confusion and drama into the contest.
Alcaraz suffered what appeared to be cramping in his left leg after missing a return, and opted to receive medical attention for it at 1-1. Given it was not a changeover, he chose to hand a full game to Djokovic in order to get his leg checked out. That decision meant Djokovic was gifted a critical service break and he quickly consolidated for a 3-1 advantage as Alcaraz struggled to move.
Quickly down 4-1 in the third set, the Spaniard was treated at the next changeover, with both of his legs attended to by an on-court physician.
Djokovic motored through the final two games of the set as Alcaraz showed little life, taking it 6-1. Alcaraz couldn't muster much resistance in the fourth set, with Djokovic winning 12 of the final 13 games to close out the victory in three hours and 23 minutes.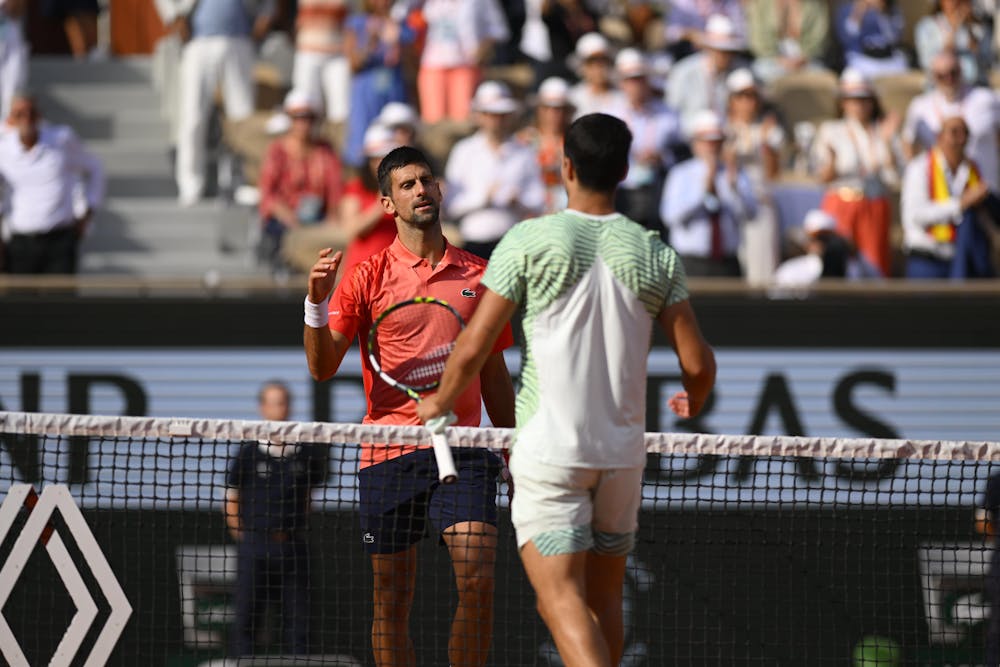 Incredible longevity
The victory is a nod to the Serbian's incredible staying power in the sport. Tasked with taking down the most electric player of the tennis generation next, he found a way to be at the peak of his powers when he needed it most. Already the oldest year-end No.1 in ATP history, Djokovic will seek more age-related accolades this weekend in Paris.
On Sunday he will bid to become the oldest men's singles champion in Roland-Garros Open Era history. For the first time since 2006, the 36-year-old came in as an underdog by ranking against a player not named Nadal at Roland-Garros, and he played with the proverbial chip on his shoulder, moving the chess pieces across Court Philippe-Chatrier with intent as he fought off blistering pace and power from the 20-year-old phenom across the first two sets.
Alcaraz, the youngest man to reach a Roland-Garros semi-final since Djokovic in 2007, hoped to deny the 22-time Grand Slam champion a shot at yet another crowning achievement. If he had succeeded, the tournament would have seen a first-time men's singles champion for the first time since Djokovic's maiden title in 2016, but that dream will have to wait for now.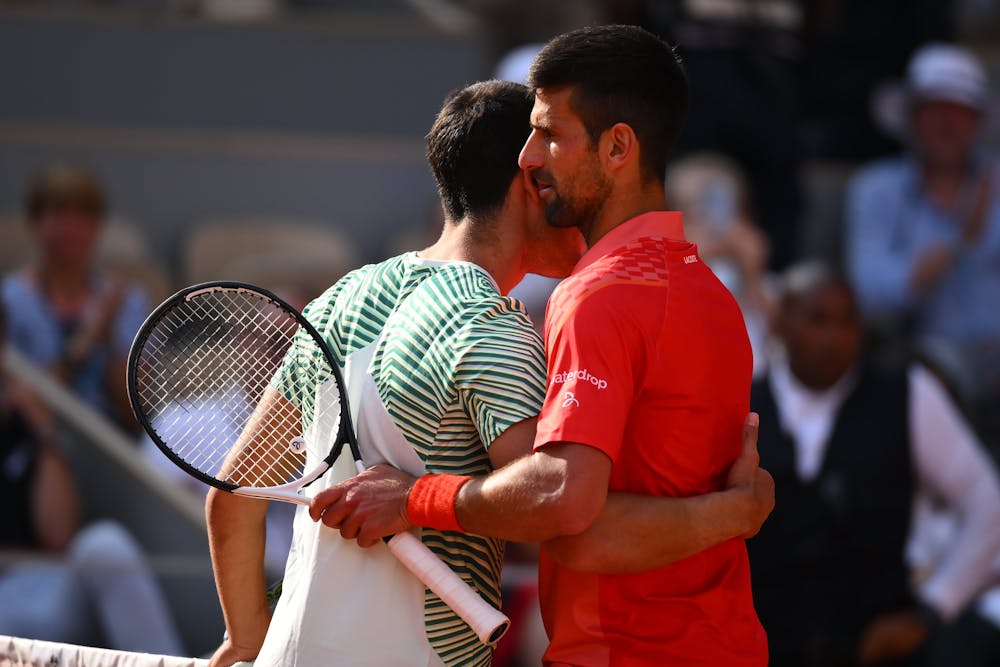 The two-time Roland-Garros champion advances to the 34th Major final.