To bridge the gap between skilled labor and employment opportunities while fostering sustainable and climate-resilient local economies, the 2023 GrEEn Regional Job Fair took place today at the prestigious Takoradi Technical University's auditorium.
This vibrant event drew young talents from various parts of the Western Region, including Axim, Wassa Akropong, Agona, and Takoradi, among others.
GrEEn, or Green Employment and Enterprise Opportunities in Ghana, is a collaborative initiative aimed at benefiting women, youth, returnees, and Micro, Small, and Medium-sized Enterprises (MSMEs).
The job fair was organized in partnership with SNV Netherlands Development Organisation under its European Union in Ghana-funded, GrEEn Project organized this third and last of its GrEEn Regional Job Fair in the Western Region in partnership with the Ministry of Employment and Labour Relations, Ghana TVET Service, Association of Ghana Industries (AGI), Labour Department, and the Ghana Chamber of Young Entrepreneurs.
Mr. Laouali Sadda, the Project Manager for SNV Netherlands Development Organization, emphasized the project's commitment to driving systemic change.
In 2022, the GrEEn project positively impacted 6.2 million people across 24 countries in Africa, Asia, and North America. Its primary focus is on developing practical employment skills for young job seekers, including CV review support, career guidance, counseling, and connecting them with potential employers.
Highlighting the success of previous job fairs in 2021 and 2022, Mr. Sadda noted that partnerships with the Youth Employment Agency and the Association of Ghana Industries led to the organization of four regional job fairs in Kumasi and Takoradi, where 1,616 participants, with 53% being women, were able to access 130 job opportunities, 75 of which were located in the Western Region.
This year's event aimed to inspire young people to explore green job opportunities in Technical and Vocational Education and Training (TVET) and expose participants to career paths in three key sectors: water, agriculture, and energy.
Mr. Sadda expressed gratitude for the collaborative efforts of the Ghana Association of Industries and the Ministry of Employment Labour Relations, the Youth Employment Agency, and the Ghana Chamber of Young Entrepreneurs.
J.C Garbrah, the Western Regional Chairman for the Association of Ghana Industries, emphasized the importance of cultivating positive work ethics among the youth.
He encouraged them to adopt traits such as punctuality, honesty, innovation, and respect for employers while discouraging negative behaviors like misplaced priorities and excessive mobile phone use.
He advocated for a shift towards entrepreneurship.
Honourable Abdul Mumin Issa, the Municipal Chief Executive, acknowledged the event's significance in addressing unemployment-related challenges.
He pointed out that unemployment often leads to social issues like theft, drug abuse, and irregular migration.
Issa urged young people to consider entrepreneurship and the acquisition of employable skills.
Regarding Technical and Vocational Education Training (TVET), he revealed that the government is committed to integrating TVET into the educational system, with new policies to elevate its standards.
He also shared success stories from a collaborative effort with an EU-funded project called Twin City, which created green social enterprises and provided training in agriculture technology.
Osahene Katakyi Busumakura III, the Omanhene for Takoradi, emphasized the importance of nurturing young talents and protecting the country's human resources.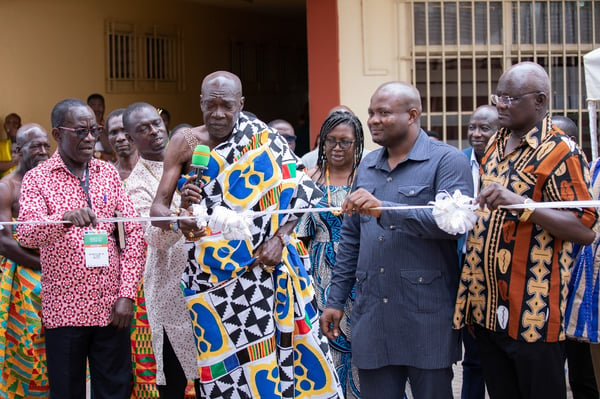 He called on employers to engage young people in entrepreneurship and provide opportunities for growth and leadership, ultimately curtailing youth migration.
Mr. Emmanuel Kwesi Adjei, a senior development officer for the Ministry of Employment and Labour Relations, reassured the audience of the government's commitment to supporting Small and Medium-sized Enterprises (SMEs) and green jobs.
He highlighted collaborations with the World Bank and efforts to refurbish public employment centers.
Mr. Enoch Amegbletor, Head of Corporate Affairs at GTVET, discussed the role of TVET in shaping the future and boosting Ghana's economy. He emphasized inclusivity in TVET, encouraging both genders to pursue careers in traditionally male or female-dominated trade areas.
He expressed the service's dedication to helping young people acquire employable skills despite challenges like funding.
The 2023 GrEEn Regional Job Fair serves as a beacon of hope for the youth, offering pathways to sustainable employment and a brighter future for Ghana's economy.