By: Obaakro - Kyzzfmonline
October 15, 2023
In an enthusiastic declaration after his highly patronized "Showdown Health Walk", Hon. Kennedy Agyapong, the member of parliament for Assin Central and an aspirant for the position of the New Patriotic Party's (NPP) flagbearer, has expressed his confidence in winning the party's primaries scheduled for November 4th.
Addressing the media and the people of Takoradi and its environs during his recent rally at the Bedu Addo Methodist Primary School on Saturday, October 14th, Hon. Kennedy Agyapong highlighted his commitment to the NPP and the regions he has tirelessly worked to support.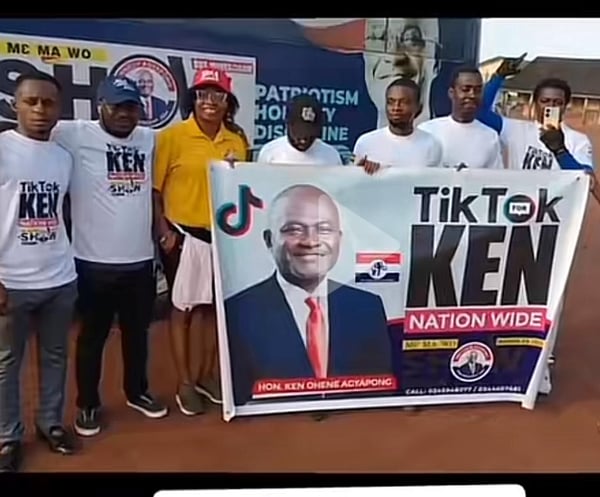 He acknowledged that the Western Region gave him a disappointing result during the recent delegates' elections on August 26th.
However, he pointed out that, after the Central Region, the Western Region has been a significant focus of his efforts.
Recalling his involvement in resolving conflicts among Regional Executives in 2015 and his generous donation of 26 pickups in 2016, he emphasized his dedication to the party's unity and success.
Hon. Kennedy Agyapong went further to mention that he covered the security expenses during the 2016 elections in the Western Region, which contributed to preventing vote "theft" by the National Democratic Congress.
In a critical remark, he called out those who compromise the truth for financial gain, insinuating that their actions were motivated by greed rather than a genuine commitment to the nation's welfare.
Kennedy Agyapong asserted that, in his view, he is the only candidate in the NPP who can effectively offer the National Democratic Congress a proper beat down in the 2024 elections.
He urged his supporters to remain resolute and participate in the upcoming voting on November 4th, emphasizing that his campaign revolves around the essential values of patriotism, honesty, and discipline, which he believes Ghana urgently needs for rapid development.
He remarked, "We need to be patriotic, honest, and disciplined to develop our country.
Ghanaians often prioritize their self-interest over the nation's well-being, which hinders progress. The country's failure at various levels can be attributed to a lack of honesty."
In closing, he lamented the impact of dishonesty on the nation's ability to manage its resources and businesses effectively.
He expressed the belief that Ghana, despite its resources, faces challenges due to dishonesty, which undermines its growth potential.