By: Sharckles - Kyzzfmonline
October 6, 2023
Faith Aku Dzakpasu, a teacher at GRETA 'D' Shepherd Two Basic School in the Greater Accra region, was recognized as the most outstanding teacher for 2023 in Ghana.
She received a prototype of a three-bedroom apartment to be built at a location of her choice in Ghana, one million Ghana cedis worth of insurance from the State Insurance Company (SIC), and 1000 exercise books.
The first runner-up award went to Isabella Wussa-Tetteh of Sege D/A Primary in the Greater Accra region. She was awarded a 4×4 pickup truck, one million Ghana cedis worth of insurance coverage from SIC, and 1000 exercise books.
The second runner-up position went to Fredous Idi-Amin of Ogbojo Presbyterian Basic School. He received a brand new saloon vehicle, one million Ghana cedis insurance cover from SIC, and 1000 exercise books.
Other awards were also presented in different categories, such as Best Junior High School Teacher, Best Primary School Teacher, Best Senior High Teacher, Best Technical Teacher, and more.
Additionally, a new award was introduced for the Best Tutor from all the colleges of education in Ghana, which was awarded to Mr. Simon Boateng from St. Monica's College of Education, Asante Mampong. He received a 4×4 pickup truck.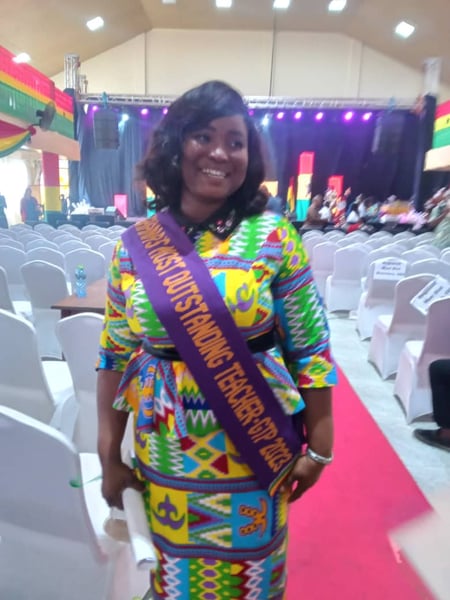 During the awards ceremony, President Nana Addo Dankwa Akufo-Addo praised teachers in Ghana for their dedication and commitment to the nation's development through education.
He highlighted the importance of teachers in training the right manpower for the country and pledged continued support for the education sector, including initiatives like the payment of Continuous Professional Development (CPD) allowance to teachers and providing laptops to teachers.
The President also assured teachers who had not yet received laptops under the One Teacher One Laptop project that they would receive them. He commended the National Teaching Council (NTC) and other institutions for their contributions to honoring teachers.
The Minister for Education, Dr. Yaw Osei Adutwum, expressed gratitude to the President for his commitment to education and emphasized the role of education in the country's development.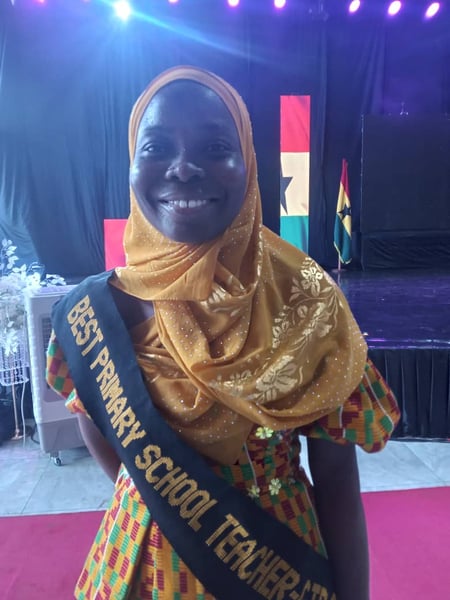 He called on all stakeholders to work together to transform the country through education and highlighted the importance of critical thinking skills in the nation's economic development.
The Registrar of the NTC, Dr. Christian Addai-Poku, praised sponsors and institutions for motivating and appreciating teachers and pledged to improve the quality of teaching in schools.
He also called for efforts to reduce teacher attrition, which poses a challenge to the nation's development.