On October 12, 2023, the Sekondi-Takoradi Metropolitan Assembly (STMA) took a significant step towards enhancing its commitment to climate resilience, sustainable energy, and low-emission development by signing a Memorandum of Understanding (MoU) with the Covenant of Mayors in Sub-Saharan Africa (CoM SSA).
This partnership underscores STMA's dedication to a sustainable future for its residents.
STMA, located in the Western Region of Ghana, aims to strengthen its capacity for resilience, mitigation, and adaptation efforts, as well as the promotion of climate-smart infrastructure.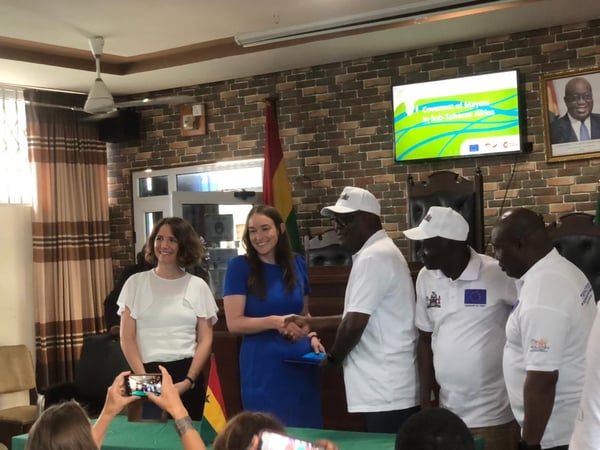 The MoU, supported by the European Union and the German Federal Ministry for Economic Cooperation and Development (BMZ) in Ghana, represents a pivotal moment in this endeavor.
The collaboration between STMA and CoM SSA will involve three key actions:
1. Development of a Sustainable Energy Access and Climate Action Plan (SEACAP): This plan will integrate strategies for sustainable, low-emission development into STMA's existing development plans.
2. Implementing Urban Smart Energy (USE): STMA will work on installing decentralized energy systems and enhancing energy efficiency in municipal facilities such as city halls, markets, schools, and healthcare centers.
3. Active Involvement: STMA will participate in workshops, training programs, and international events, and gain access to valuable resources and intercity collaborations through the CoM SSA network.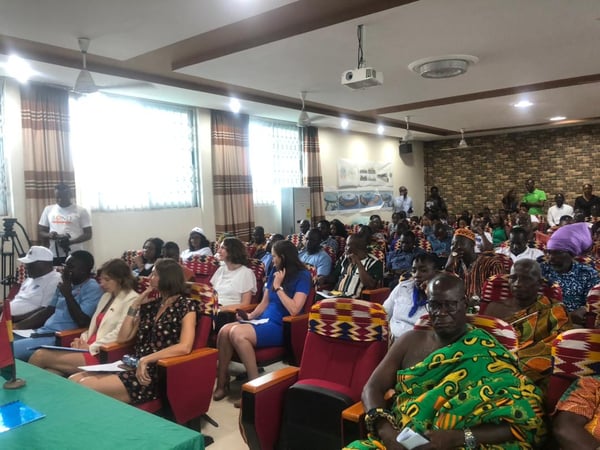 STMA's commitment to CoM SSA dates back to May 2018 when it initially became a signatory city.
In August 2023, Honourable Abdul-Mumin Issah, the Mayor of the Twin City, Sekondi-Takoradi, reaffirmed their commitment, emphasizing their plans to boost resilience, implement mitigation and adaptation measures, and provide low-emission, climate-smart infrastructure.
This collaboration with CoM SSA is seen as a timely and impactful initiative.
Ms. Paulina Różycka, the Head of Infrastructure and Sustainable Development EU-Ghana, commended this move, stating that it demonstrates STMA's dedication to reducing Greenhouse Gas Emissions and achieving climate neutrality by 2050.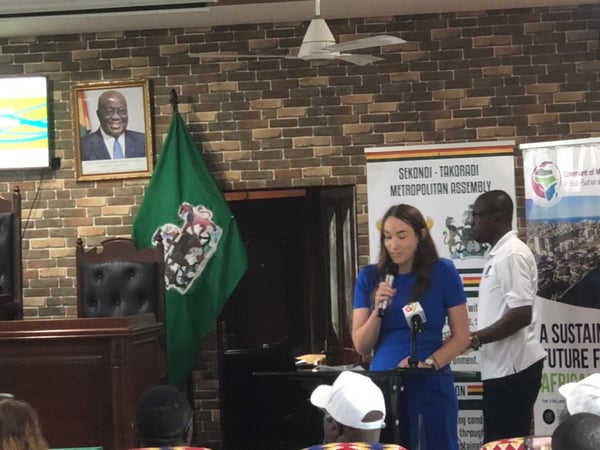 The European Union is ready to support Sekondi-Takoradi in its efforts, building on the successful track record of CoM SSA in collaborating with more than 350 cities across Sub-Saharan Africa.
This strengthened partnership with CoM SSA will provide STMA with a range of services and support through the CoM SSA network, including the Technical Helpdesk, Secretariat, and the Deutsche Gesellschaft für Internationale Zusammenarbeit (GIZ) GmbH in Ghana as the co-implementing partner.
Shea O'Neil, GIZ CoM SSA Ghana Project Manager, expressed enthusiasm for this initiative, which aims to enhance the resilience of Sekondi-Takoradi and its residents against climate change impacts.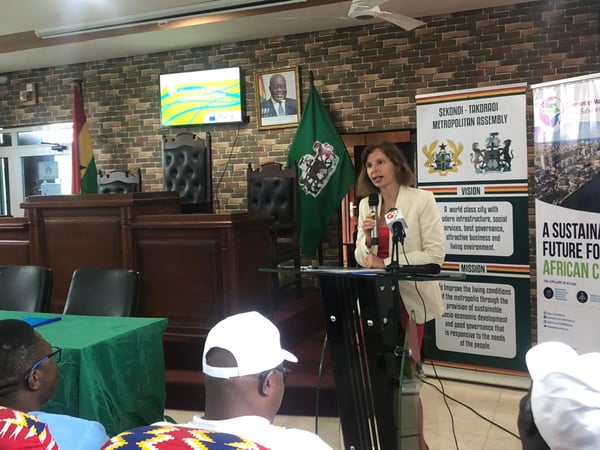 STMA and CoM SSA anticipate a productive collaboration that will significantly contribute to the global effort against climate change and the journey toward a more sustainable future.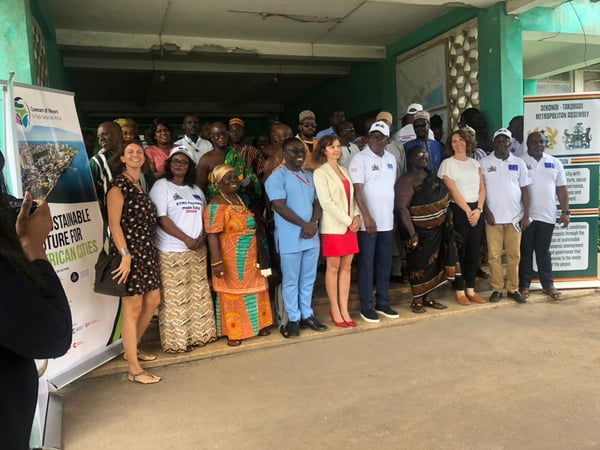 Executive Summary:
CoM SSA is the regional chapter of the Global Covenant of Mayors for Climate and Energy (GCoM), the largest global initiative of cities addressing climate and energy challenges.
This initiative encourages cities to voluntarily set and achieve ambitious yet realistic climate and energy targets. As of 2023, the network includes over 350 cities in Sub-Saharan Africa.
Since January 2019, it has been co-funded by the European Union, the German Ministry of Economic Cooperation and Development (BMZ), and the Agencia Española de Cooperación Internacional para el Desarrollo (AECID), with a total funding amount of €35.7 million.
It provides comprehensive support to cities in 14 countries, including Ghana, and is jointly implemented by four European Member State Organizations: GIZ, AECID, AFD, and Expertise France.
NB:
Cultivating Climate Champions: 12 Basic Schools Have Been Established As Climate Change Clubs to Foster Knowledge and Neighborhood Ambassadorship.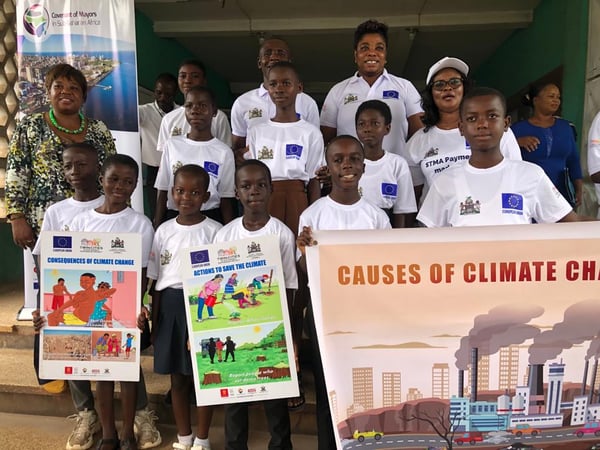 Essikado STMA Basic, one of the School-based climate Change Clubs at the signing of the Memorandum of Understanding program.