By: Joyceline Stephens - Kyzzfmonline
June 8, 2023
Isn't it funny that at a time when our textile industry is on its knees and tailors and dressmakers are seeking more work to do policymakers are encouraging serious business in the importation of second-hand clothes (fosse).
Further, on the 17th of May, 2023 the IMF formally approved a USD 3 billion loan, which should reduce economic uncertainty and improve debt sustainability. The first disbursement of USD 600 million was made available immediately bolstering foreign reserves.
However, sharper-than-expected depreciation due to bilateral debt restructuring, weak domestic activity, and premature monetary policy has compounded our economic situation.
Under such a difficult economic condition, Kyzzfmonline decided to find out how dressmakers and tailors in the Sekondi Takoradi Municipality are faring as if they operate under a different economic atmosphere.
Attiebu Gifty is an apprentice at Emefa's Fashion, she is 25 years old and completed Coasa Senior High School in Kumasi.
According to her, she comes from a family of ten which involves her parent and siblings. She narrated that she stays at Top Ten in Takoradi and usually walks from her home to the workplace. Interestingly, she said her parent are farmers, and financially, things are not that easy for them because they are not able to harvest more of the cocoa they plan to sell and this does not fetch them enough money like it used to be.
She further lamented that she wanted to continue her education to the tertiary level but due to not enough funding at home; she decided to learn a trade instead, and this led her to the sewing trade. Now, she said she is happy that she chose that path because she does not feel like continuing her education anymore. "This trade is enough for me". She stated.
Speaking to Kyzzfmonline, Gifty said that her admission requirement was sponsored by both herself and her parent. "I paid a sum of GHC 1,000 to become an apprentice, I also bought a sewing machine, tape measure, elastic and office pins.
She added that since the beginning of her apprenticeship, her parent has been supportive and provided her money for work, though sometimes she cannot afford two square meals at work. She said her apprenticeship will last for three and a half years and her decision to enter into this trade has gone well it has helped her to gain a hand-skill job that she can depend on in the future, even if she doesn't continue her education.
She concluded that her plight as an apprentice is that sometimes money to come to the workplace for food and practicals becomes difficult.
The pockets of clients are so dry they have stopped offering tips.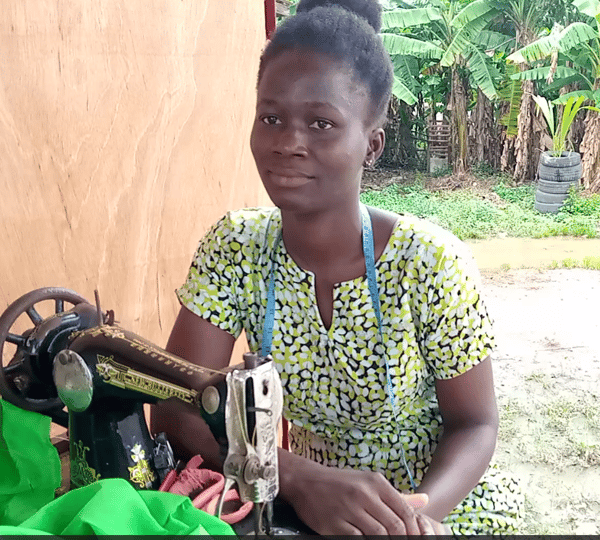 Gifty Attiebu.
In addition to our interviews in the Takoradi Municipality, we visited Elizabeth Afedo a seamstress and a madam at Emefa's Fashion, a shop situated on the Takoradi Essikafo Ambantem number two road.
She said it has been five years since she began her trade and the beginning was not too easy for her, "I began at home but now by God's grace I have my own shop and two apprentices and they have a good relationship and they mostly share their problems among themselves at the workplace.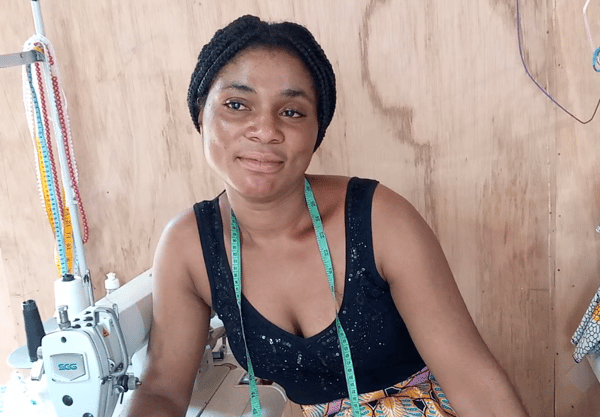 Elizabeth Afedo
In finding out how the current economy has affected their trade, Mr. Benjamin Siaw and Mr. Erasmus Yankson, the head and Chairman of the Ntankorful Tailors and Dressmakers' Association, disclosed that the current economic challenge has affected their trade massively. "Everyone into the sewing business will tell you how the trade is collapsing due to an increase in the cost of materials used for sewing, it will amaze you that common lining used for lining clothes which is cut by 36 inches has now been reduced to 31 inches". He stated. Again, another challenge to the trade is the affordability of second-hand clothing which in effect makes most clients choose them over our services.
They concluded that currently, there are four types of machines one is operated manually, and the rest of the three-use electricity. Initially, the cost of the manual sewing machine was GHC 350 but it has now increased to GHC 1,000. The industrial machine was GHC 1,300 but now costs GHC 4,500 in the western region. Another machine used for hoes and buttoning dresses costs GHC 700 but has now increased to GHC 1,500. He added that machines for neatening or overlock were GHC 1,4OO but have also now increased to GHC 4,500 in Takoradi. He said that this has affected the trade.
They, however, pleaded with the government to help reduce the cost of logistics in their trade to enable them to meet both local and foreign standards.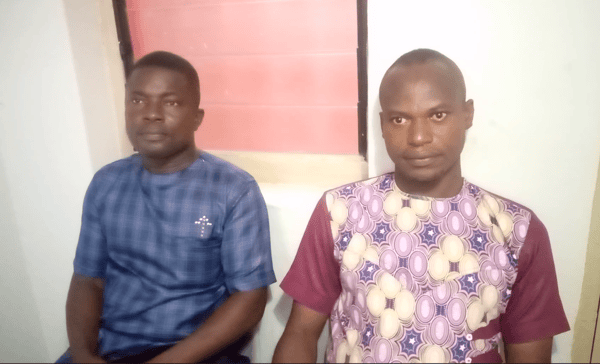 Mr. Erasmus Yankson, chairman and Mr. Benjamin Siaw, head of Ntankorful Zone Tailors and Dressmakers' Association,