Kyzzfmonline had a meeting with the Centre for Languages and Liberal Arts of Takoradi Technical University (TTU).
Leaning against the wall in the office of the Head of Department, Mrs. Gifty Serwaa Mensah, was a bag of sachet water.
The bag was labeled TTU Aqua.
Our interest took us to the Centre for Business Development and Entrepreneurship.
We met him on the phone sitting behind his desk with a cup of beverage on the table.
Was it coffee?
The time was 7.52 am. Our appointment was at 7.30 am. This was July 5th,2023.
If he was annoyed, it was not visible on his face.
Sharckles: Good morning Sir and what is your name?
Man: My name is Paul Ofori Krah, and I am the Director of the Center for Business Development and Entrepreneurship at TTU.
Sharckles: what is your center involved in?
Krah: Originally the core mandate of the directorate is to get entrepreneurial innovations into the minds of students, but we also saw that the school has some production units. So the question that arose was, can we now turn those into business units, where students can go through training on the practice?
That is exactly what we are doing now.
Fortunately for us, we had the Plassu, which is the restaurant that was working already. So we are now trying to put it in a more productive, more efficient, more profit-making enterprise so that students when in school can, find some two hours of work to do, kind of the one we were doing when we were outside of Ghana.
I have started a water production center at Butumagyebu (BU) which is doing well. We have one professional operator and the rest are students.
You can come and work for one or two hours or so creating some form of working experience for the students.
How do I get paid at the end of the month?
How do I sign in the morning when I report to work?
These are all experiences worth having.
It should be more of training, learning, and profit-making.
Sharckles: Let's talk about the restaurant.
Krah: Yesterday, we had an interview with those who are coming to manage the restaurant. The government does not pay those people, so we want to put it at a stage where it is self-financing, self-sufficient, stand-alone, with no cost to the University enterprise that will now give money to the University.
Sharckles: How is the water project coming along?
Krah: Actually, we are going to go bottle very soon. The problem is that Takoradi doesn't have enough underground running water. Anaji and other related areas have water underground but the water is not as superb as the other parts that do not have sufficient water.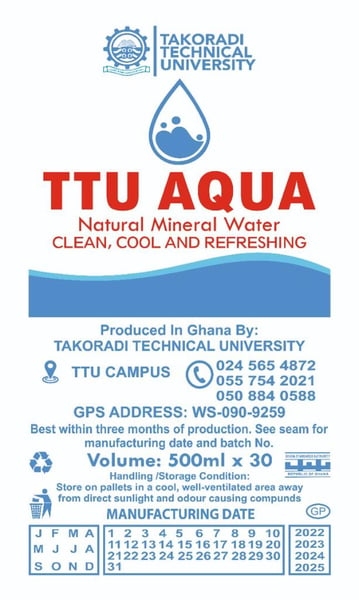 Sharckles: How do you then solve the water source problem?
Krah: From day one our decision was not to rely on Ghana Water Company for supply of treatable water. We want to get raw water which is quality from the underground and treat it for consumption.
This is a University producing water so the quality should be very good.
We are careful with whatever we do.
Sharckles: Your initial customer is the University so are you able to meet demand?
Krah: Primarily our first customers are the students. For now, I will say yes, because we have stopped the supply of sachet water from outside. We are doing well with supply on campus, especially the main campus which has the largest number of students. The BU campus is well served. We are going to start the production of bottled water soon for the University. This is because the university buys a lot of bottled water. If we can do this too, I would say we would have done well.
Sharckles: As a testament to you the Head of the Department at the School of Liberal Art had TTU aqua in her office.
Krah: He claps for himself with laughter.
A healthy population is wealth and that is what we are looking at. Almost every four months, we go to the CIRS to test the quality of our water, instead of every six months which is the standard. We know very well that when we get it wrong, it is wrong indeed!
Sharckles: So far are you breaking even?
Krah: We are making a profit, be it small. Water is like Kenkey you can't make losses unless you are lazy.
Sharckles: The next enterprise we heard of is the car washing bay.
Krah: We have a challenge and the challenge is human resources. You know these washing bay boys. Their mentality is not like somebody you have gotten whose aim is to come and work. Theirs is a mentality of I have come to find money to enable me to eat in the next few days. So if you are not in the business of having plenty of boys, today some will come the next day some won't come but, we can't run a system like that. That is where our main challenge is. So I am looking at getting somebody who I can trust, whose SSNIT I will pay, who will now sit down and say this is my work I look forward to it every day.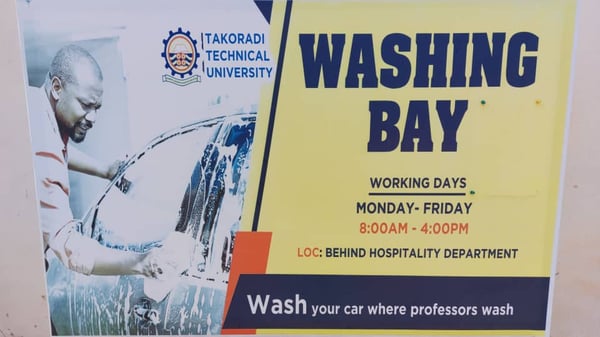 We can't run a system where a boy can get up and say, Charlie "Ende dia me tumi mba" You can't go and beat the person. Their mindset is different.
I don't also want to see a system with so many people on the line. We want to be more efficient, or more economical. So if you go to where we produce the sachet water, it was working fantastically until my staff felt that the person taking the money at BU must once in a while pass by and the acceptance was based on if once in a while then I am fine.
I don't want to put a cluster of people doing just jobs that are not necessary, it is not worth it.
I don't want to do the bureaucratic kind of government work system, no I won't do it. I won't do it for anything. So I want somebody at the washing bay whose mind is more sensible, who will wash the cars as and when there is a need to wash or probably when somebody is not around, he can take off his clothes and wash, just like anybody else, and still manage.
I am not just looking for a manager who will come and sit down and do paperwork, no way.
Sharckles: Any other strategy?
Krah: Now the strategy I have taken at the washing bay is to make friends with all the washing bay managers around, so if I have a problem with somebody not coming, I will just call any of them to ask their boys from their washing bay to come and wash for me and it is working, it is working, you get it.
Sharckles: Networking at the basic level.
Krah: Exactly. It is working nicely and then, the other ventures you are asking of. we have now identified the fashion department. They do sew and other things. we have started our proposals to see how we can make that place commercial. We can sew for the school, the security personnel, and all those things. if we want to eat from within, we can. And we have also identified the furniture department which we want to develop.
In fact, my model if accepted is that furniture does not usually have many students.
In the first year and second years let them do the paperwork and some practicals. In the third year, let them work in the workshop, just like an apprentice. By the time the student leaves the third year, with one full year as an apprentice, the student should be able to sit down and think that with all that he has worked on and learned, can't I do something meaningful with it?
That is where I want us to get to, so we have identified the furniture as well. So, we are looking at every department that has a production center, but you don't do things at once. A white friend has always told me, "Start small and grow wise." That is the key.
Shackles: Do you have a salon here?
Krah: There is a salon here, yes!
The salon, I didn't mention it for two reasons, we started it commercially small but the salon was built primarily for training. So, we are in the process of also having a conversation to either stop the commercial or go full commercial for students to train through the commercial. So, it is either of the two. If I buy my materials for a commercial, do you use them for your training, or if you buy your materials for your training, do I use them for my commercial?
So, we should, instead of finding a balance should go one way, and let the other carry along or we should go the other way and let the other come along.
Our Universities for a very long while had not been commercially minded until quite recently. It's heartwarming to learn our very own College has stepped into the "22nd century" turning centers of learning into innovative platforms. This offers a glimmer of commercial hope.